Keeping your website secure is something most people don't think about until it's too late and they've been hacked. Don't let this happen to you! It's easy to improve WordPress security on your website.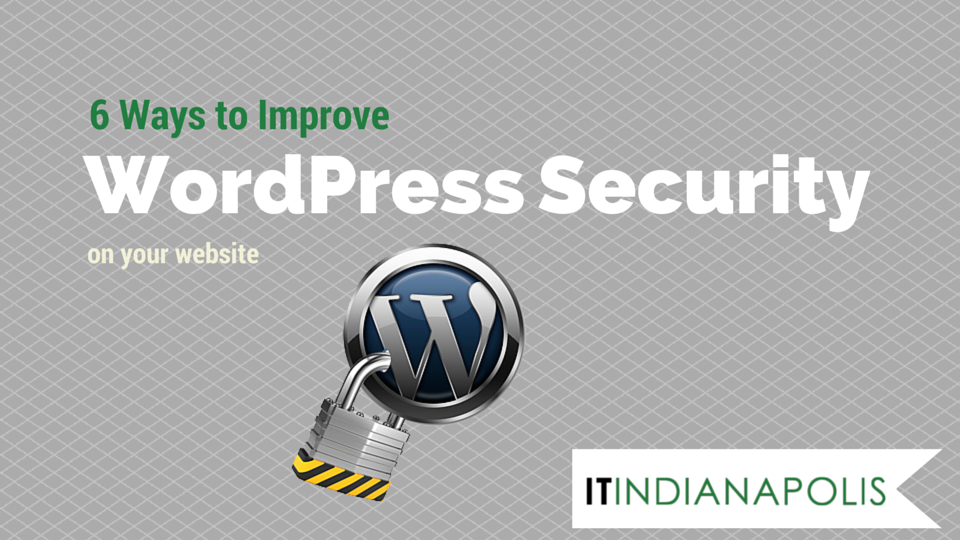 Since WordPress is so popular, it has become especially susceptible to hackers and spammers. These people attempt to gain access to your web server in order to send spam. This can wreak havoc on your website and you will likely end up blacklisted by the major ISPs and email services. Luckily, there are some simple things you can do to make sure your WordPress website is secure.
Improve WordPress Security on your Website:
1. Keep WordPress updated. The WordPress software addresses all known security holes so it's important to make updates as soon as they are available. Making the update is as simple as clicking a button.
2. Choose good plug-ins. WordPress plug-ins are authored by people all over the world. Although there are lots of great plug-ins out there, there are also lots of bad ones. When you are selecting a new plug-in for your website, check for the following:
Has it been updated recently? Anything older than 6 months may not be in active development any longer, thus no security patches will be released. Stick with plug-ins that have been updated recently.
Does it have good ratings? You wouldn't eat at a restaurant that had terrible ratings on Yelp or Urban Spoon. Likewise, you should not invest your time and resources with a plug-in that has subpar use reviews.
How many users have downloaded it? If you see thousands, it's probably a trustworthy plug-in. If there are only a few downloads, it's better to avoid that plug-in altogether.
3. Update Plugins. Just as WordPress releases software updates, so do plug-in authors. These updates are very important as they often include security patches. Install the updates as soon as they become available.
4. Update Themes. Themes, also known as templates, will release updates just like plug-ins and WordPress. Install these updates as soon as they become available.
5. Protect usernames and passwords. First of all, do not use the default "admin" as your username because this is very easy for hackers to guess. Secondly, use a strong password with a combination of upper/lower case letters, numbers, and special punctuation. Lastly, change your password regularly, at least once every three months.
6. Get security alerts from your website. WordPress has lots of great security plug-ins that are either free or very inexpensive, among them Wordfence, BruteProtect, and Sucuri. These plug-ins help tighten up security on your website and reduce the likelihood of being hacked. They'll even email you if they see any suspicious activity.
You don't have to be a technical genius to improve WordPress security on your website. Be proactive and follow the steps above to greatly reduce your chances of being hacked.