Before buying a computer for work, it's important to consider whether your best bet is to get a consumer model or one built specifically for business use.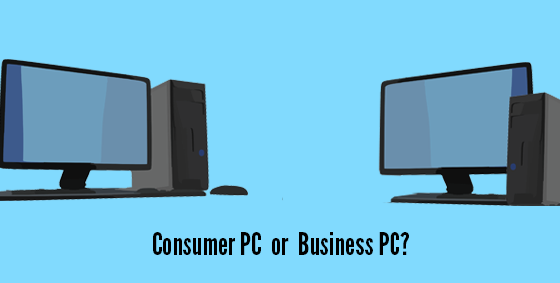 You've probably seen business computers with the same brand name that you have at home, but that's where the similarities end. Investing in the right system now will pay off long term, saving you time, money and a whole lot of frustration. Here's what you need to know to make the best choice for your business and budget.
Business-class Features
When you invest in a computer, you want certain inclusions built-in and ready to go. For a business, those include features that will make your network more secure and staff more productive. For example, fingerprint readers, remote desktop software and data encryption tools. The operating system that comes pre-installed on a business-class computer will also have features the consumer options don't, including the ability to join corporate networks. Computers designed for home use come with Windows Home or Starter editions, which may require hours of expert assistance to link into a secure business network.
Usage Requirements
Work out how often you'll be using the computer for business. If the computer is mostly for home use and only occasionally for work, then a consumer PC with the appropriate work software and settings will be fine. On the other hand, a computer that is mostly for business use should be a business-class computer, not just for security but also build quality reasons.
Durability and Reliability
It's probably no surprise that consumer PCs don't have the same build quality as business ones. In fact, consumer models only have an expected lifespan of around 2 years. They just aren't built to last. Business-class computers are built to last several years, with higher quality components and rigorous testing at every level. Most parts (if not all) are name-brand with an emphasis on reliability and long term durability.
Warranty and Service
Unfortunately, when a consumer PC fails, the burden is on the owner to send it away for repairs. The terms of the warranty will usually state that any other attempt to repair it will void the warranty.  Repairs can then take weeks and often involve a frustrating process of paperwork and following up. Contrast that with what happens when a business computer needs service – the technicians will come to you and fix it on the spot, often within hours. Business users enjoy a professional experience with priority status and a dedicated support line, all designed to reduce down-time and get you operational, faster.